Australia's median house price has fallen for the first time in two years but the bulk of the downturn is coming from Sydney and Melbourne, a new report shows.
House prices fell by 2.7 per cent in Sydney – its steepest quarterly fall since early 2019 – and 0.9 per cent in Melbourne. This was the second quarterly fall in a row for Melbourne.
These price falls dragged the combined capitals' median house price down by 0.9 per cent.
Australia's median house price is now $1.065 million – $10,000 less than what it was in March but still $100,000 more than what it was this time last year.
Sydney and Melbourne's declining property markets reveal a dramatic turnaround from the same time last year, when Sydney's house prices rose an extraordinary 8.2 per cent – or $107,000 in just three months – and Melbourne's rose 4.1 per cent, adding $41,000 to the cost of a house.
But a winter property market featuring $1200-a-day price rises in our biggest capital city is not the 2022 story.
Instead, Australia now has a two-speed market with weakness centred mainly in Sydney and Melbourne, while the rest of the nation is still getting more expensive, albeit at a much slower pace.
Every other capital city still rose in value over the June quarter, and Brisbane and Adelaide, still the nation's strongest property markets, hit record highs for house and unit prices.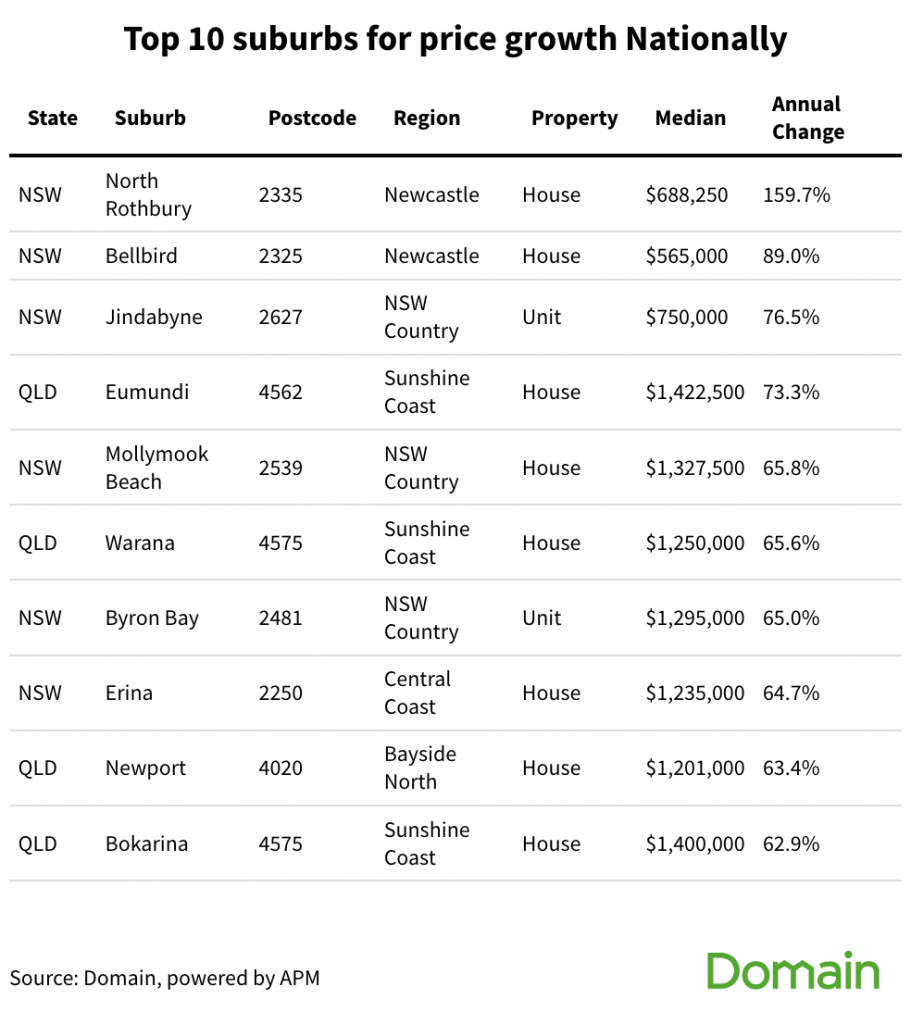 Canberra recovered from its wobble earlier this year when house prices fell slightly, increasing 1.8 per cent over the June quarter to $1.15 million.
It remains the second-most expensive capital city in which to buy a house and has added another string to its bow: it is also now the second-most expensive capital city in which to buy a unit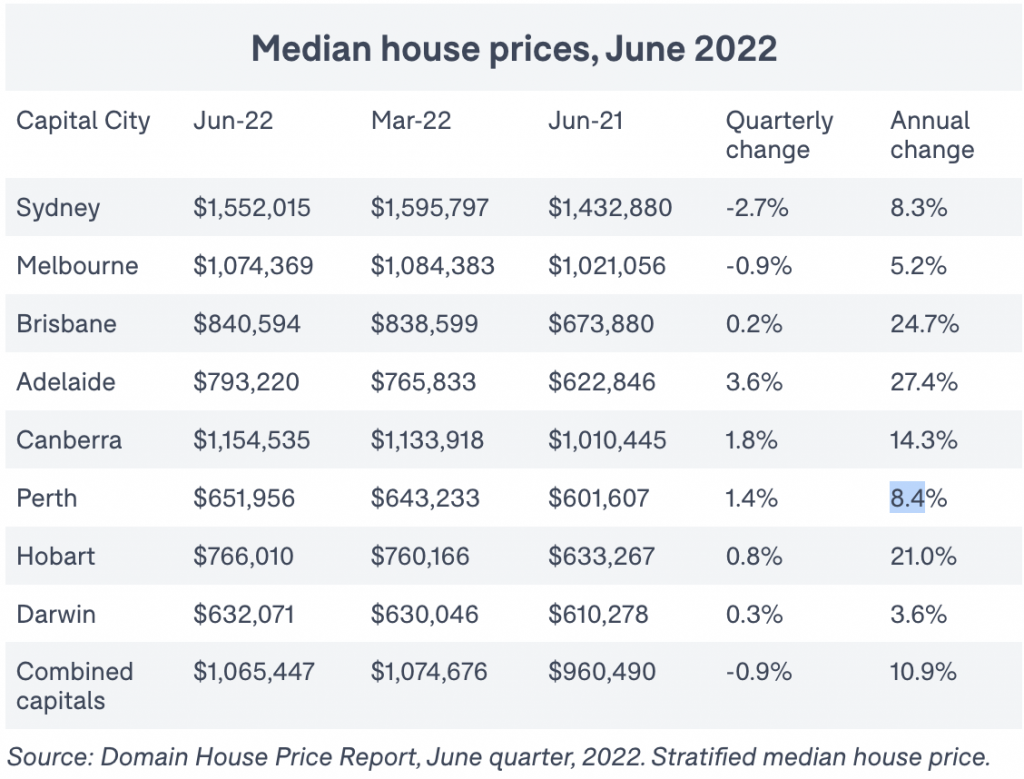 Hobart's median house price is $133,000 higher than what it was 12 months ago, while Perth house prices are at record levels. The latter is now no longer the cheapest capital city in which to buy a house.
Darwin has bounced back from a fall in house and unit prices earlier this year to edge back into positive territory.
But while prices are still rising in the capital cities outside of Sydney and Melbourne, they're not rising at anywhere near the rate they once were.
Brisbane may have hit a new record price but only by the skin of its teeth – the actual rate of growth was minimal and the housing market has come to a virtual standstill, says Domain's chief of research and economics, Dr Nicola Powell.
"What we're seeing is a slowdown, led by Sydney and Melbourne, and that loss of momentum is spreading geographically … spreading to markets that were once very strong," she says.
"Queensland has been a very popular destination for buyers, but are we starting to see that shift? Brisbane has only risen by 0.2 per cent and the Sunshine Coast has fallen in price. The Gold Coast has flatlined.
"Adelaide is still a strong market but that pressure cooker has eased slightly. Other markets like Darwin, Hobart and Perth have likely all peaked.
"So the other capitals may be rising, but that rate of growth we were seeing has pulled right back."
Sydney's price falls are no longer contained to just a clutch of prestige suburbs. There have been declines in North Sydney and Hornsby, the inner west, Northern Beaches, city and inner south, Sutherland, Parramatta, outer south-west and Blacktown.
Melbourne's price falls are still isolated to its prestige postcodes in the inner city, inner south, inner east and Mornington Peninsula.
Units are performing better than houses
During the pandemic, house prices across Australia's capital cities skyrocketed by an incredible 34 per cent. Units, by comparison, rose a modest 10 per cent during that same time.
Now, though, for the first time in almost three years, unit prices are outperforming houses.
Affordability constraints, reduced borrowing capacity and the underperformance and perceived value that units offer are all helping to support unit prices, Powell said.
"People have been priced out of the housing market and are turning to units because they're so much cheaper. That demand is pushing up prices," she says.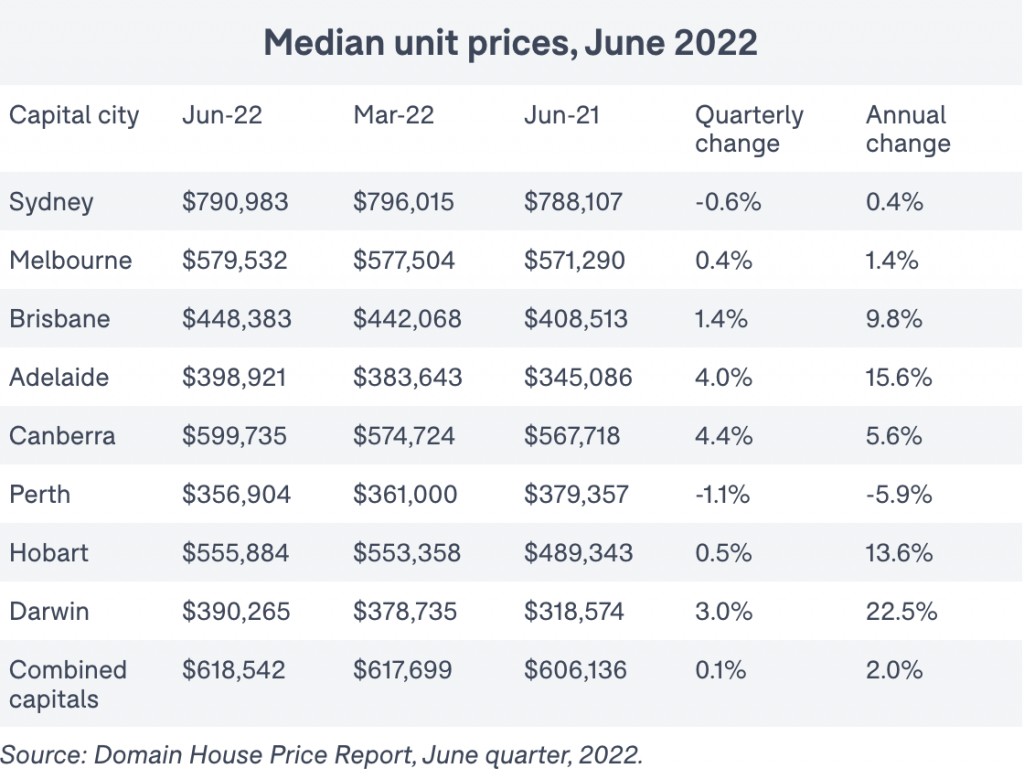 Brisbane, Adelaide and Canberra units hit record highs over the June quarter. In Darwin and Hobart, units have grown by a massive 22.5 per cent and 13.6 per cent, respectively, within the past 12 months alone.
And in Sydney, house prices fell almost five times faster than unit prices, the report found.
If Sydney and Melbourne house prices are falling, are the other capitals next?
Some economists have forecast falls of anywhere between 15 and 20 per cent for Sydney and Melbourne, and smaller falls for the other capitals, while others have looked to what's happened in New Zealand as a better yardstick for Australia's house price future.
Powell believes it will be Sydney that will cop the brunt of the downturn.
"Definitely the weakness is greater in Sydney and Melbourne at the moment and, historically, they have higher price upswings and downs than other cities," she says.
"When we look at the other capitals, there have actually been very few points in history where they have declined and even then they're usually only small.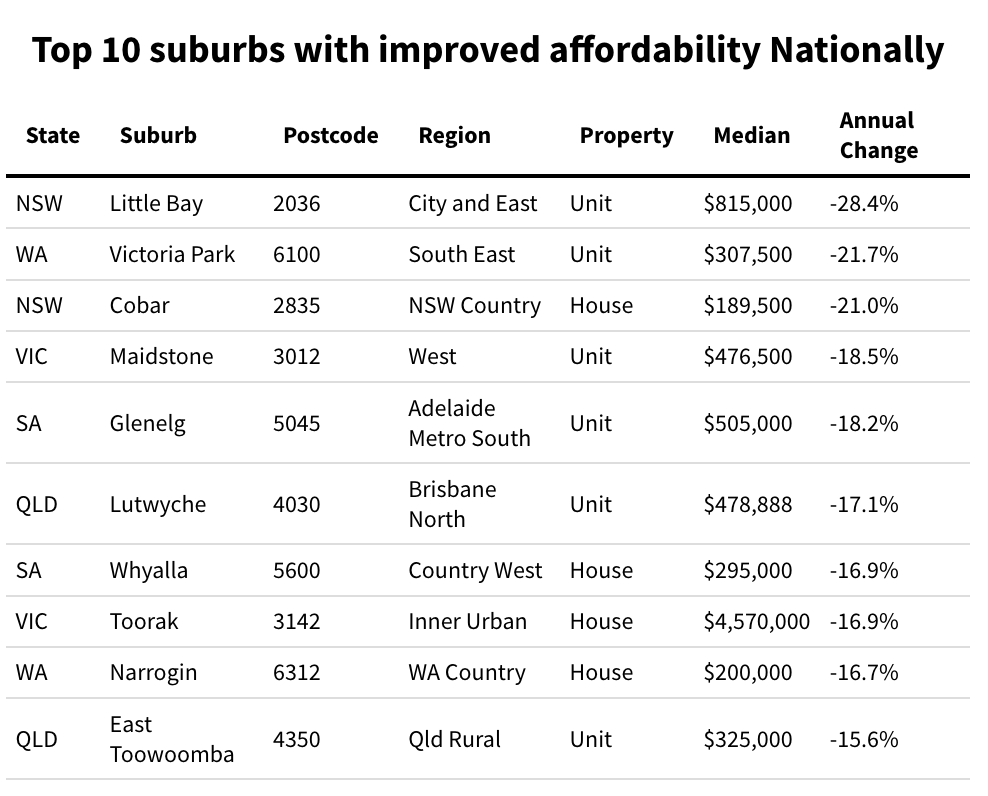 "I'm not convinced we'll see as big a dip anywhere else as what I think we'll see in Sydney – I'm certainly of the view that Sydney will see the strongest declines of anywhere. Brisbane has basically flatlined so it will probably tip into negative territory next quarter."
Powell says the market downturn has accelerated with cumulative interest rate rises but that the slowdown was already unfolding before rates went up.
"This loss of momentum has not occurred overnight, so it's not being solely driven by interest rates," she says.
"It may feel like this has happened quite quickly but it hasn't at all. We already had issues with affordability during those escalating prices, then we had a build-up of listings … add into that aggressive interest rate rises and here we are.
"More interest rate rises will have an impact and we'll see bigger declines in Sydney and Melbourne over the next quarter."
View Source Here