Winter is here, and it's brought more than just a cracking cold snap – it's brought a property market that couldn't look more different from this time last year if it tried.
Gone are the frenzied buyers gripped by FOMO, housing markets in which prices rose by $1200 a day and auctions that routinely finished millions of dollars over their reserve.
Last year's property zeitgeist of never-ending price rises has instead been replaced by rapid-fire interest rate rises (with more forecast to come), slowing or falling prices (depending on your postcode), and a general sense of trepidation.
If you're a buyer, do you sit on your hands and wait for prices to fall? Or do you buy now before interest rates and inflation rise even more, reducing your borrowing power and spending capacity?
If you're a seller, do you list now and meet the market before prices possibly fall further? Or do you hold off, assuming there will be less for sale in a few months, meaning fewer homes to compete with?

This period of uncertainty over what to do in the market is what Domain Home Loans mortgage broker Millind Garg calls the "transition phase". Both buyers and sellers need a bit of time to catch up, he says.
"It takes about three to six months; people just want to sit on the fence in anticipation and get some clarity on what's actually going to happen with rates and property prices," says Garg.
"It's the shock. As soon as people start to live with it, like COVID, they get used to it. They do their budget; they adjust."
That hesitancy in the market, or transition phase, is being reflected in property data.
Analysis from Domain shows that the number of property searches fell substantially in April compared to the same time last year in every state except the Northern Territory. NSW, Victoria and the ACT recorded the most significant falls. Search volumes are down overall across Australia by 38 per cent.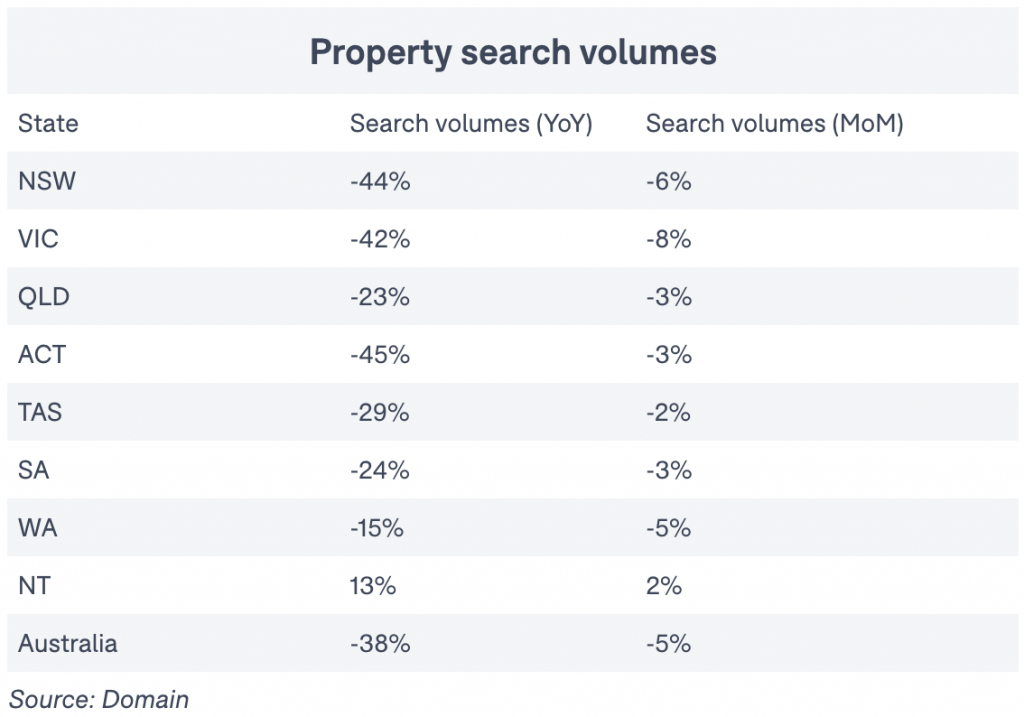 The number of current property listings increased in every capital city bar Canberra during May, data from Domain shows. Compared to a year ago, Adelaide, Perth and Brisbane – all markets that are holding up better this year – have fewer listings.
Domain chief of research and economics, Dr Nicola Powell, says even though current listings are up, not up by huge amounts, the fact they are increasing at all is an indication that the market has changed.
"One of the fundamentals in a change of market is where the current stock is sitting. A turn in the market is evident when you see that total supply build. Homes are coming onto the market quicker than they are purchased," she says.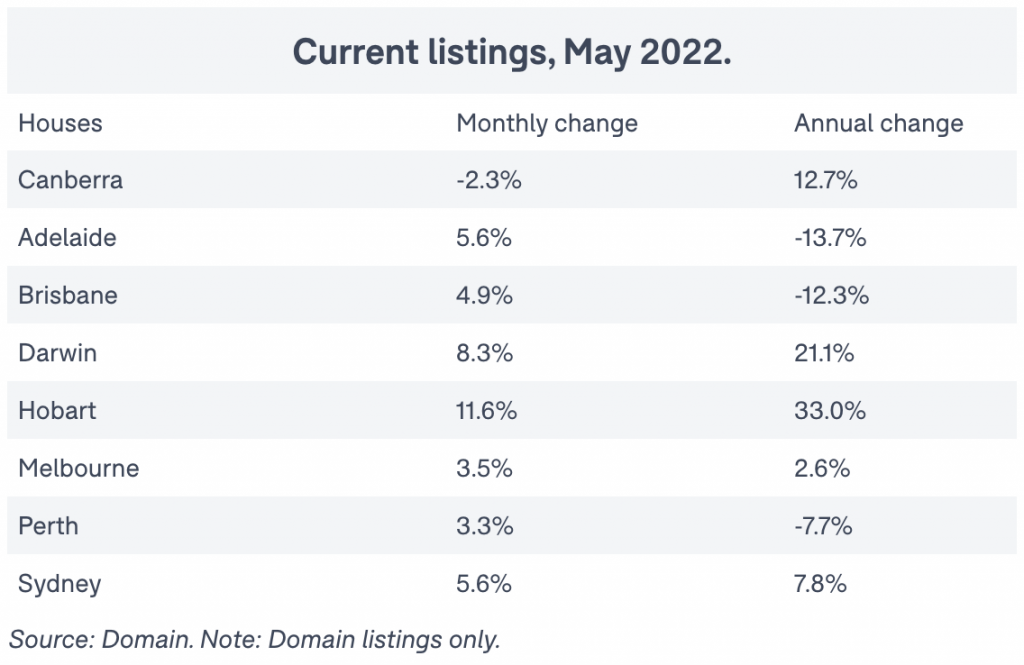 "You're getting a slow down in the number of buyers, there are fewer buyers than there were, and the turnover isn't as high.
"The supply also builds because the properties for sale sit on the market for longer. They're taking longer to sell."
The data backs this up. The average number of days a property spends on the market has stretched out in Sydney, Brisbane, Perth, Melbourne and Hobart as buyers take advantage of a less competitive market – and take their time making decisions.
"When you reflect on the pressure cooker of the 2021 market, I know I'd prefer to buy under conditions that give me breathing room," Powell says. "Buying under the pressure cooker conditions means you don't have time to make smart or savvy conditions. I'd much rather buy now."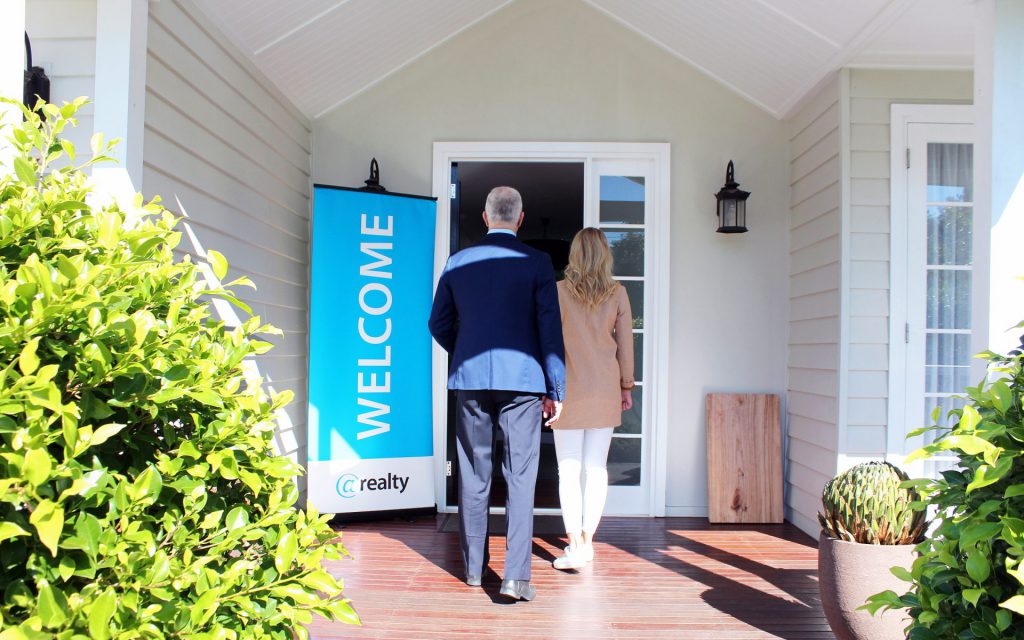 So to buy now, or buy later?
There is evidence of Sydney buyers watching the market and trying to pick the bottom, mainly in the sub-$2 million range, but the risk in waiting is that they won't be able to borrow as much when they eventually decide to buy.
This doesn't apply to wealthy or cashed-up buyers because they're not relying on borrowing or needing to worry about what happens with interest rates. But for those who are borrowing, if they sit on their hands and cherry-pick the market, they're probably going to get reassessed by the bank, and they might not be able to get as much money again.
Buyers who don't have to sell will simply take their property off the market if they can't get their price, which means there's less to choose from.
Melbourne and says although sentiment has dropped significantly, there are still people ready to purchase now, citing a recent sale at Kew that had six or seven buyers at the $7 million mark.

Buyers can wait for prices to fall further, or they can act now and get that much off the price anyway. Some clients are waiting for prices to drop 10 to 15 per cent, but my argument is can you negotiate that much off the asking price now? It may not be that much – but then they don't need to reset their expectations when their borrowing capacity is reduced down the track.
The state of the market in cities like Brisbane and Adelaide is different.
In Brisbane, the average time it takes to sell a house has increased by four days, but properties are still selling twice as fast as they were this time last year. There is still less property for sale now than there was in 2022.
Brisbane is holding up better than Sydney and Melbourne but acknowledged the market had changed very quickly.
Buyers are quick to drop their offers and sellers are still hanging on to prices from six months ago. This transition market is the most difficult to sell in.
Unlike most other capital cities where properties are now taking longer to sell, houses in Adelaide are still flying off the shelves. Data from Domain found that during the month of May, the average time an Adelaide house spent on the market dropped to its shortest time on record.
Source here