An unassuming patch of suburbs in Brisbane has been revealed as Australia's fastest-selling property market at the moment, with houses on average taking 18 days to sell.
Capalaba, in Brisbane's outer east, was ranked as the number one region in the nation for having the speediest property transactions.
Days on market in Capalaba, which includes suburbs like Gumdale, Chandler, Alexandra Hills, Thorneside, Birkdale and Wellington Point, have shortened by 55 per cent – this time last year houses took 40 days to sell.
Data from Domain showed the fastest-selling area from every state in Australia.
In NSW, the outer Sydney region of Mount Druitt ranked higher than anywhere else. Over the past 12 months the average days on market for a house there has dropped from 42 to 26.
The Mount Druitt statistical region includes suburbs like Oakhurst, Emerton, Minchinbury, Glendenning and Eastern Creek.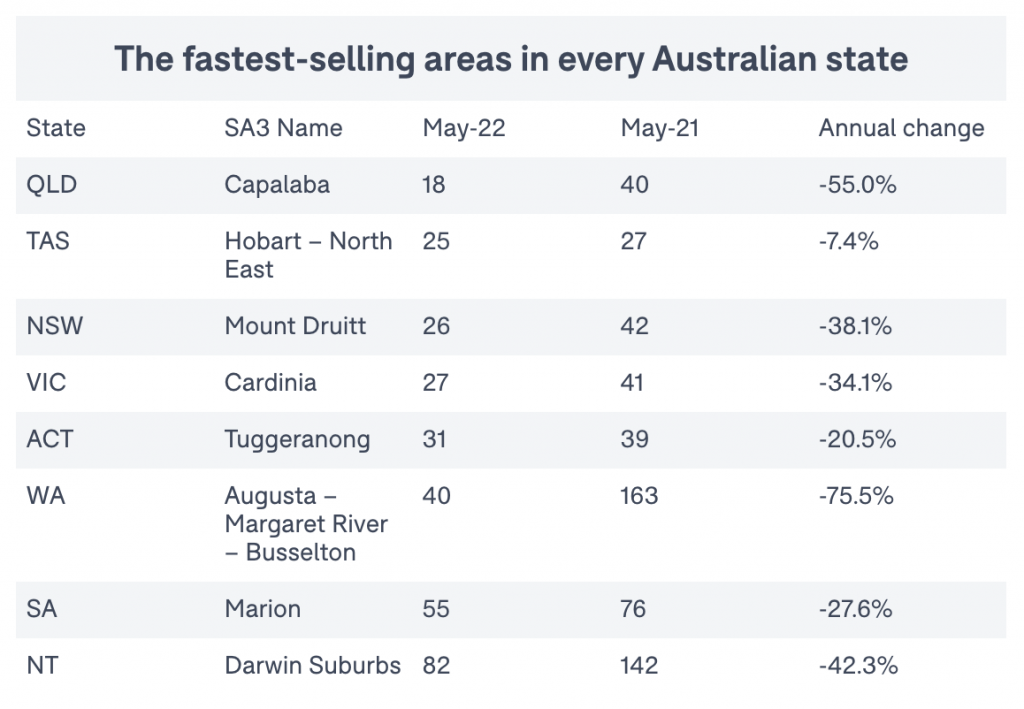 In Victoria, it's houses in the regions rather than the big smoke that have the fewest days on market. The average in Cardinia, which includes towns like Koo Wee Rup, Lang Lang, Cockatoo, Gembrook and Bunyip, is 27 days.
The Hobart – North East region, which includes suburbs such as Roches Beach, Sandford, Bellerive, Tranmere, Montagu Bay and Lindisfarne, is where houses are selling fastest in Tasmania.
In Western Australia, it's suburbs in the beautiful Augusta-Margaret River-Busselton region where houses are being snapped up faster than anywhere else.
Across in South Australia, its suburbs in Adelaide's south-west like Seacombe Gardens, Mitchell Park, Morphettville, Hallett Cove and Marino where houses sell quicker than anywhere else in the state, although their days on market are more than double that of Capalaba in Brisbane.
So, why the red-hot demand in Capalaba?
One word: affordability.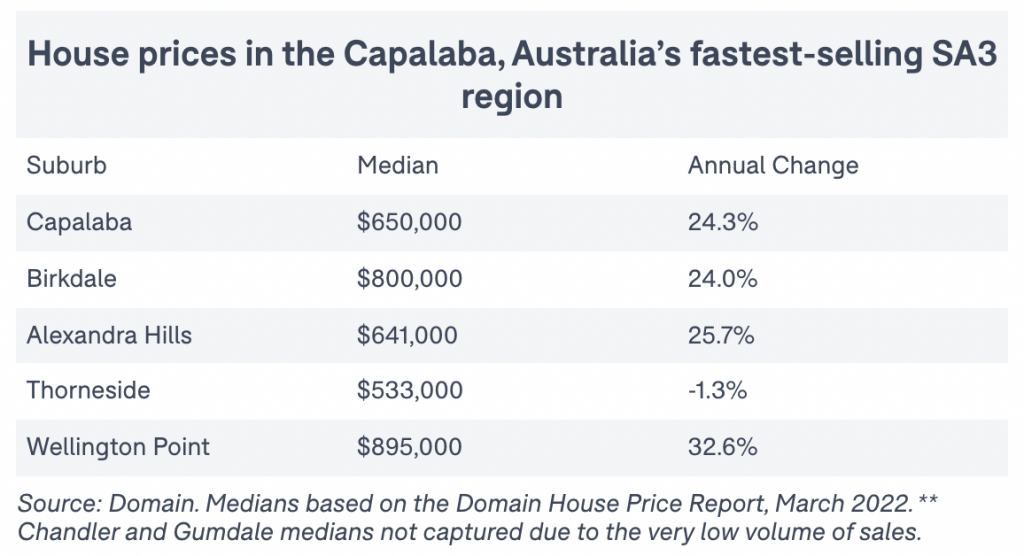 While houses are still selling quickly in some parts of the country, the latest days on market figures are a far cry from how quickly houses were selling last year, pointing to how much the market has changed in the space of a few months.
In 2021, the fastest-moving property market was Goodwood in Hobart, where deals were done within eight days, followed closely by Killarney Heights in Sydney's northern beaches, Diamond Valley on the Sunshine Coast and Sassafras on the outer eastern edges of Melbourne, which all had houses selling in 10 days.
The latest data from Domain shows the average number of days a property sits on the market has stretched out at a capital city level in Sydney, Brisbane, Perth, Melbourne and Hobart, as buyers take advantage of a less competitive market and take their time making decisions.
Source click here